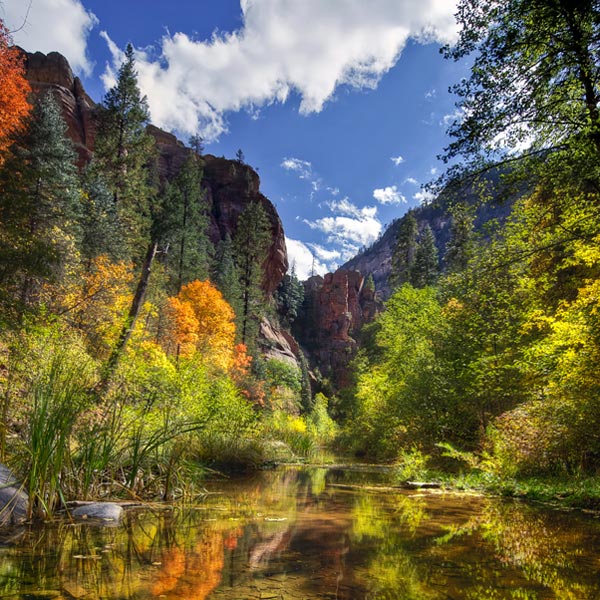 Sedona in the fall is a truly special time of year. With the temperatures starting to cool down and the leaves turning to vibrant shades of red, orange, and yellow, it's the perfect time to explore Northern Arizona. One of the best places to experience fall in Sedona is Oak Creek Canyon, with its stunning fall foliage. As you hike through the canyon, you'll be surrounded by towering trees and a rainbow of colors.
For those taking a scenic drive, make sure to visit the overlook at the top of Oak Creek Canyon. From here, you'll be treated to panoramic views of the canyon and the surrounding red rocks, all while surrounded by the beauty of fall in Sedona. It's a popular spot for photographers and nature lovers alike, so make sure to bring your camera and plan to spend some time taking in the breathtaking views.
Another great way to experience fall in Sedona is to explore the area's rich Native American history and culture. Many official vendors offer a variety of handmade crafts, jewelry, and art that are inspired by the traditions of the local tribes. From colorful dreamcatchers to intricate pottery, there's something for everyone. Make sure to stop by the Sedona Arts Center or the Tlaquepaque Arts and Crafts Village to find unique and authentic Native American art and crafts.
Finally, don't miss the opportunity to simply take in the beauty of Sedona. With so many parks, trails, and scenic drives to choose from, there's something for everyone. Pack a picnic and head to Red Rock State Park to take in the fall foliage. Or, take a drive along the Red Rock Scenic Byway, which offers stunning views of iconic landmarks like Bell Rock and Courthouse Butte. No matter how you choose to experience fall in Sedona, you're sure to be surrounded by natural beauty.